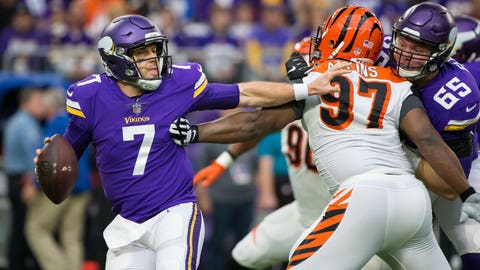 National Football League insider Adam Schefter reports that Cincinnati Bengals head coach Marvin Lewis plans on leaving the team after this season.
More on Sunday NFL Countdown.
Lewis, 59, became the Bengals' coach in 2003, Heading into Sunday's game, he has a career coaching record of 123-111-3 in 15 seasons, plus an 0-7 record in the playoffs. Lewis is hoping to potentially move into a front-office job.
As he has done in the past, Lewis willingly opted to enter 2017 on the final year of his contract, but unlike other years, this time he is planning to leave Cincinnati, sources said.
Antonio Brown out after helped off field with calf injury
With Brown done for the day, the Steelers are again be without one of their best players when facing off against the Patriots. It was a costly loss, one that saw the top seed and home-field advantage in the AFC playoffs stolen in the final seconds.
Lewis is the second-longest-tenured coach in the National Football League, behind only Bill Belichick of the New England Patriots. That's the second-longest tenure with one team in the league, three years behind New England's Bill Belichick.
The report added that some Cincinnati coaches are "unhappy with the way they have been treated financially" after the team declined to offer contract extensions, which could be a factor in Lewis' decision to leave the franchise.
The Bengals now sit with a record of 5-8, and have been all but eliminated from playoff contention, and are 12.5-point underdogs this week against the Minnesota Vikings.