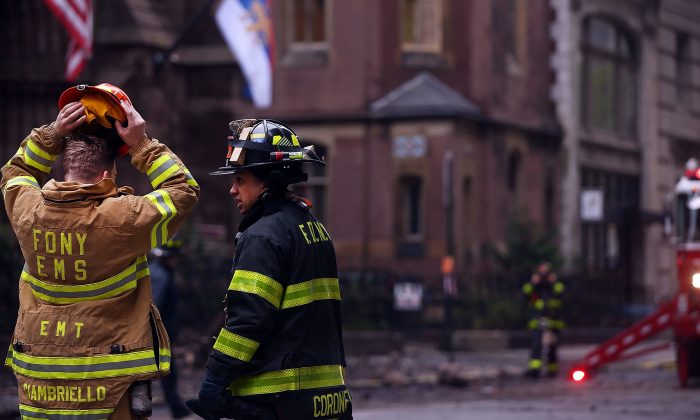 Three children and their mother died early Monday in a house fire in Brooklyn.
Aliza Azan was found dead on the second floor of the single-family home near the children who perished: 11-year-old Moshe, 7-year-old Yitzah and 3-year-old Henrietta.
The father, a 16-year-old female, and a 15-year-old male were taken to Staten Island University Hospital in critical condition while two other boys, 13- and 12-years-old, were transported to Maimonides Hospital with minor injuries, according to the Post.
Firefighters said unattended candles, overloaded outlets and power strips "and numerous holiday traditions we all hold dear" often cause fires.
Officials said the fire started on the second floor and attic of the house and spread quickly.
This is a developing story. The FDNY is trying to figure out what sparked the fire. "The units, knowing there were people in the home, pushed in very aggressively". According to the Times, the FDNY says that the cause of the fire does not appear to be suspicious. "There were big flames shooting out the front of the house", he said. The others escaped through a side door. The bodies of the deceased are being flown to Israel for burial.
Jonghyun: Fans mourn death of SHINee K-pop star
The singer, who performed under the name Jonghyun , was found unconscious in a rented Seoul apartment on Monday evening. Police told CNN that Jonghyun's sister called them to the apartment in Cheongdam, around 6 p.m.
The Azan teenagers have told investigators that the menorah was left burning when they went to sleep and that the fire started nearby.
The father was the manager of a Coney Island clothing store called "Hat Box", according to one of his friends, 59-year-old Avi Navon.
The fire was reminiscent of a 2015 conflagration that killed seven children of another Orthodox Jewish family in Brooklyn.
Firefighters did not reveal the cause of the fire. The objective of the mayor's remarks was to place responsibility for safety entirely on the residents by urging them to be careful about "decorations, electric lights, candles, space heaters and other items".
Neighbors said that on each night of Hanukkah, the Azan's would light a large oil menorah in the living room window that faced the street.