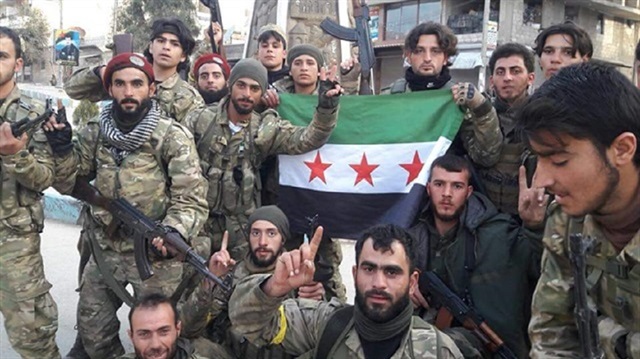 Three Turkish soldiers were martyred and three others wounded by an explosion on Thursday during a search operation in Syria's Afrin as part of Operation Olive Branch.
Turkey launched the so-called Operation Olive Branch in Afrin on January 20 in a bid to eliminate the YPG, which Ankara views as a terror organization and the Syrian branch of the PKK.
There, Turkish President Recep Tayyip Erdogan has unleashed his army and Syrian former rebel fighters to take Afrin from a group he sees as aligned with the outlawed Kurdish PKK group fighting within Turkey.
With Turkey having captured the Afrin District over the weekend, President Erdogan is even more bellicose about the ongoing invasion of Syrian Kurdistan on Monday.
Many feared revenge attacks, amid reports of looting and abuse of residents in the town.
The Kurd's struggle against Turkey has also had another major impact - diverting them from the US-backed fight to wipe out the remaining pockets of the Islamic State group in Syria.
"We are also concerned over reports of looting inside the city of Afrin, " the statement said.
"We'll continue this process until we completely abolish this corridor", Erdogan said.
Serial bomber suspected in deadly Austin explosions, say police
Bryce Dubee, an Iraq and Afghanistan army war veteran, likened the feeling to his fear of IEDs. "That's what made me feel sick". He said the technicians and canine will assist Austin police and the Federal Bureau of Investigation as long as they're needed.
But YPG has claimed it just wants to guarantee legal and constitutional rights for Syrian Kurds.
"The Free Syrian Army came and entered into Afrin and supposedly we were going to be safe".
He added that Turkey will restore peace in Afrin soon.
A political affiliate of US-backed, Kurdish-spearheaded militias accused Erdogan seeking to attack "under false pretences" swathes of northern Syria.
The operation is being carried out under the framework of Turkey's rights based on global law, UN Security Council resolutions, its self-defense rights under the UN Charter and respect for Syria's territorial integrity, it said.
Turkey's disaster management agency and military on Tuesday distributed food aid to civilians in 35 villages of Afrin, Syria recently liberated during the counter-terrorist Operation Olive Branch.
In a written statement, the Foreign Ministry said it finds the "unfortunate explanation" by Merkel at the German parliament Wednesday about the operation "unacceptable", "which is based on disinformation" and "not even remotely close to reality".
Approximately 160,000 Syrian refugees returned home, according to the AFAD's data, after Turkey's previous cross-border operation into Syria - dubbed Euphrates Shield - which ended in March 2017 after seven months.