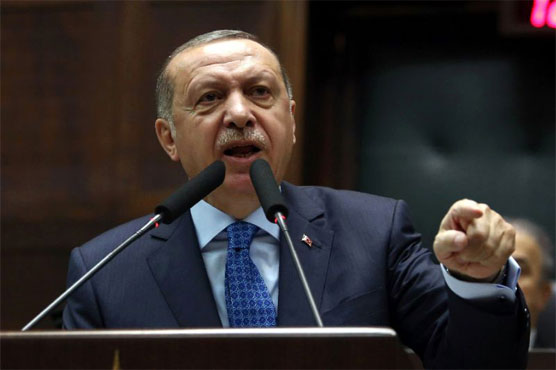 Turkey was informed of the forthcoming strikes fired by the USA and its allies against Syrian regime targets on early Saturday, the ruling Justice and Development Party (AK Party) Spokesperson Mahir Ünal said.
Turkey has been working with Russian Federation and Iran through the so-called Astana process to achieve peace in Syria, but it has rejected direct dialogue with Damascus until now.
Turkey on Saturday welcomed Western strikes targeting Syrian President Bashar al-Assad's regime as an "appropriate response" to a suspected chemical attack that left dozens dead.
"Turkish and U.S. Chiefs of Staff were in contact upon the order placed by [Recep Tayyip Erdoğan] and Mr. Trump", Bekir Bozdağ, Turkish Deputy Prime Minister, said.
The talks come after Trump warned Russian Federation over its support for Syrian President Bashar al-Assad, saying United States missiles "will be coming" in response to an alleged chemical weapons attack.
The phone talks came after the U.S., U.K., and France launched airstrikes on the Assad regime's alleged chemical weapons facilities in Syria earlier on Saturday.
In a statement, the Turkish foreign ministry said the US-led operation "has eased humanity's conscience in the face of" the suspected chemical attack.
Landslide Win For Azerbaijan President Aliyev, Adds to 15-year Tenure
A former KGB officer and communist-era leader, Aliyev senior had ruled Azerbaijan with an iron fist since 1993. Seven candidates ran, but critics questioned whether they were actual opponents.
The use of mass destruction weapons, including chemical weapons, is a crime against humanity, the statement said.
Erdogan told May that the only way to long-lasting peace in Syria was a "political solution", the source added.
"The conscience of the global community is in no doubt about that", it added.
Erdogan said he had a "sleepless night" as he monitored all the developments. "Base Incirlik was not involved in the strike".
Turkish President Recep Erdogan has warned against further escalation in Syria in a phone talk with UK PM Theresa May.
Ankara backs rebel forces seeking Assad's ouster while Moscow remains a major ally of the regime in Damascus.